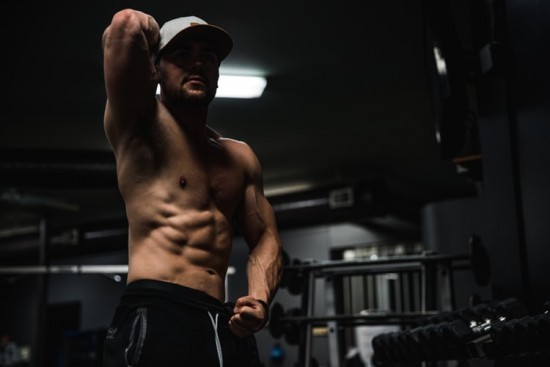 Three years after his split with model Blac Chyna, Rob Kardashian has his eyes set on becoming a fitspiration for all who are "Keeping Up With the Kardashians." If rumors are true, Rob will be flaunting his abs back in the show in no time.
Kris Jenner is reportedly asking for a $300 million deal to renew the contracts of ALL her children. If the deal pushes through, people willl be keeping up with them Kardashians for a decade more.
That could be the reason why Rob Kardashian is looking better in shape now.
"Robert's good. He's working out, eating good, so he's on a good path right now," reveals mom Jenner. His sister Khloe reportedly influenced him to get back in the gym, even offering to work out with him, and motivating him. "Rob is kicking ass and I just want him to do what's best for him and what makes him happy," Khloe said.
Quits Drinking, Now a Family Man?
Rob reportedly lost a whooping 20 pounds already, owing his weight loss to his decision to quit drinking. He is said to be cutting down on fast food as well as playing basketball a lot to trim down.
In June, Rob posted on Instagram to announce that he was starting a weight loss journey. The photo didn't show his face or before bod, but only the workout equipment. He captioned it, "Day one, all good."
His daughter, 2-year-old Dream with Blac Chyna is said to be Rob's inspiration. The dad-of-one reportedly has a fresh outlook on his future and wants nothing but to be the best dad for Dream Kardashian. He is also keen to keep the peace with Dream's mom, his ex, Blac Chyna who recently talked about co-parenting with Rob.
Sneak Peek Transformation
Kim Kardashian West gave KUWTK fans a glimpse of her bro's transformation on an Instagram post of her 39th birthday celebration with her friends and family.
Kim posted a photo of what appeared like Rob sporting a leaner frame. Though only half of his body was shown in the picture, it also showed Dream Kardashian in a pink bomber jacket holding onto Penelope Disick.
In another video, Kim was showing off her birthday spread of home-cooked Armenian dishes from Carousel Restaurant, and Rob was quickly seen while she was panning the video. Rob was diligent with portion control and seemed to be happy as he is said to be "in the best place mentally" as well.
Rob is also currently busy with his clothing line "Halfway Dead" and hilariously clowning his sister Kylie Jenner's viral Rise and Shine video.
© 2018 Celebeat.com All rights reserved. Do not reproduce without permission.