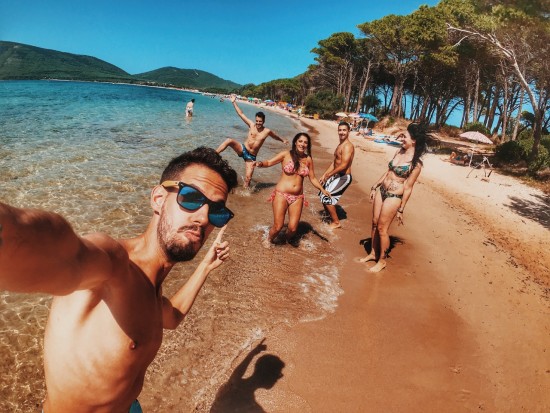 With another warm season coming up just around the corner, many families are looking for fun, exciting, and relaxing places to enjoy a much-needed vacation. People have been cooped up indoors for a long time, longer than most of us ever have before. That can create a lot of pent up energy and stir-craziness, especially in children.
So, if you are thinking about something that the whole family could do for enjoyment, how about throwing a big beach blowout? Of course, you will need quite a few things to make this shindig in the sand a success. Here are some of the basics:
Sunshade
First things first, let's get that blazing sun and those harmful UV rays in check. At the very least you will need to bring some type of covering or shade to set up in the area that you and your family have gathered in. Even though most of the time will be spent in the sun, you still need a place to cool off, especially younger and older members of the family.
Food and Beverages
There should be a little planning and common sense that goes into packing your refreshments, especially if you have limited space or just one ice chest. Make sure that there are lots of healthy snacks. Sugary, salty, and processed foods make you thirsty and inhibit the bodies' ability to hydrate.
While that is normally of no concern, when you're already hot and sweating, lack of proper hydration becomes a greater possibility. Make sure you have plenty of water and juices. Take it easy on the sodas.
Comfortable Chairs and Seating
Although sitting on the hot sand all day might be something that the younger kids don't mind, for moms, dads, and other adults that simply will not work. Believe it or not, there are about as many choices for beach lounging as there are swimsuits. Obviously, beach chairs are the first option that comes to mind.
Built with the sun, sand, and surf in mind, these chairs come in a variety of designs and with different accessories specially designed for the beach. These include various types of shade from umbrellas to complete canopy covers. Folding chairs work great too if you just want something simple to transport and quick to set up and use.
Games
You can't have a party without games, and you can't have a beach party without beach games! There are a lot of them that come to mind. Building castles and burying each other in the sand is still a favorite for most kids, and there are several other natural activities that you can enjoy without needing anything else.
But there are also all of the fun things that you can bring to the beach with you. It's never hard to put together a game of beach volleyball or Frisbee when you have one. You may also just end up getting involved in someone else's game.
Emergency Kits and Safety Equipment
Finally, make sure that you have the proper safety and emergency equipment with you as well. This means not only sunscreen and eye drops to wash dirt out of your eyes but also a real first aid kit. The beach is a fun place to be but just as with anywhere else in nature, there are certain dangers to always lookout and be prepared for.
© 2018 Celebeat.com All rights reserved. Do not reproduce without permission.