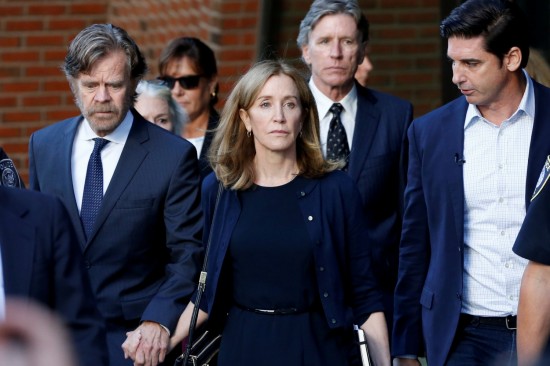 Lifestyle mogul Martha Stewart recently mocked Felicity Huffman - for her fashion sense - while in prison. No mercy, eh?
The 78-year-old businesswoman took a jab at the "Desperate Housewives" actress during the Vanity Fair summit.
"She should style her outfit a little bit more. She looked pretty schlumpy," said Steward when she was asked by the moderator as to what advice she can give to the imprisoned actress who is serving a 14-day sentence.
After hearing the reaction of the audience, however, Stewart took a more sober tone and said that Huffman made a horrible mistake and that she is experiencing what happens.
As per FOX News, the term "schlumpy" is a Yiddish term that meant "sloppy." Stewart was referring to Huffman's photo that surfaced online, where the actress can be seen wearing a green prison jumpsuit. Her hair was tucked away inside a baseball cap as she was moving around the prison grounds.
The jumpsuit photo of Huffman was the first photo taken of the actress right after she was sentenced and imprisoned at the Federal Correctional Institution in Dublin.
It can be recalled that Huffman was involved in a high-profile college admissions scandal. She pleaded guilty to the crime of conspiracy to commit mail fraud. She also confessed at having paid $15,000 to an admissions consultant in order for her elder daughter's SAT answers to be corrected.
Aside from the 14-day sentence, Huffman was also charged a $30,000 fine. She was also tasked to do community service for 250 hours.
The Emmy-awarded actress voluntarily surrendered herself to authorities. Her husband, actor William Macy, and the actress' daughter supported her all throughout the ordeal.
Reports had it that Huffman was doing well after a week within the facility. Sources from Entertainment Tonight stated that Huffman and her husband, along with her daughter, Georgia, visited the actress and stayed with her for a lengthy bit of time.
Whether Huffman recounted her prison experience to her family was something that no one knows. Reports by Entertainment Tonight revealed that Huffman was treated no different within the prison walls.
Huffman was with inmates in a cell where there is only one toilet right in the middle. As some sources would describe it, her situation is pretty serious in prison.
Actor Alec Baldwin expressed his opinion on Huffman's imprisonment. He said that he does not believe anybody involved in the college fraud cases must go to prison. He believes in imposing fines as well as rendering community service as punishment, but prison time is a no-no for him.
Another celeb who sympathized with Huffman was Lori Loughlin, 55, who was likewise involved in the scandal.
© 2018 Celebeat.com All rights reserved. Do not reproduce without permission.