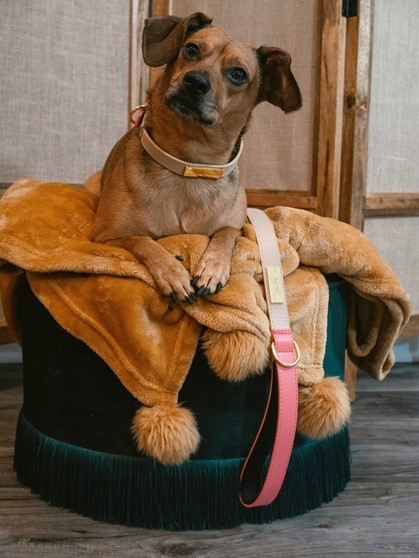 Dogs are man's best friend. They can help owners become more active, lower stress levels, and are valued as lifelong companions. With all of the things that dogs do for them, owners should return the favor. One of the ways a dog owner can do this is by adorning their pets with colorful, quality accessories.
When you think fashion, pets are probably not the first thing to come to mind. Pink Papyrus challenges that by creating a line of bright, attractive products to replace boring, basic leashes and collars.
How Pink Papyrus Does it Better
With Pink Papyrus, taking your dog for a walk can be both an enjoyable activity and an opportunity to show off your picture-perfect pup. Adding a touch of color can give a dog owner the chance to show their style, coordinate with their furry friend, or even help their dog reflect the season. Pink Papyrus, with its range of products, wants to break through the ordinary and help make style statements with their pets.
Wide Array of Products
In addition to leashes and collars with refreshing pops of color, the Pink Papyrus brand offers dog shirts that make a statement and stylish bandanas. The brand's tie-on bandanas are reversible, giving owners even more fashion flexibility.
Something no other dog accessory brand has is Pink Papyrus's BFF Mini. This practical and adorable pouch will hold everything an owner needs on their walk: waste bags, treats, tissues, and hand sanitizer. It even has an interior credit card slot! Pink Papyrus's BFF Mini comes in a variety of styles so adorable you'll be excited to show it off! Pair your pouch with a coordinating leash color or collar, and you'll be ready to hit the streets in style. They really are a complete multi-functional dog owner accessory.
Materials
All Pink Papyrus products go through an extensive design process and only the best, hand-chosen materials are selected for production. The popular rope leashes are made from organic, hand-spun cotton, and the leather collars and BFF Mini bags are made from 100% vegan leather. Pink Papyrus even individually chooses zippers and clips to make sure they're good quality and easy-to-use.
The Pink Papyrus team works only with manufacturers who are as committed to quality as they are. This focus on delivering customers the best possible product has allowed Pink Papyrus to build a strong reputation since 2016.
Impact
In addition to helping the environment, Pink Papyrus gives back to the community in numerous ways. Founders Christine and Kiro regularly donate to animal rescues, helping dogs in need.
A lot of celebrities love their products and are happy customers of the brand. The authentic and honest approach of Pink Papyrus has made it possible for customers to love the brand and its products.
From collars and leashes to t-shirts and adorable bags, Pink Papyrus has pet needs covered. It's time for pet owners to say goodbye to boring items and welcome stylish accessories that fit their personalities.
If you're interested in learning more, check out Pink Papyrus on Instagram and Facebook for beautiful pet pictures, happy customers, exciting offers, and testimonials.
© 2018 Celebeat.com All rights reserved. Do not reproduce without permission.